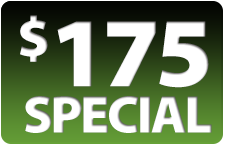 Welcome to 1 Day Home Appraisals and Inspection Los Angeles
WE APPRAISE HOMES! WE INSPECT HOMES!! WE KNOW REAL ESTATE!!!
If you need a fast, affordable and accurate Home, Property appraisal performed by a professional and licensed Real Estate appraiser then you've come to the right place. With over 20 years of experience in our coverage areas you can count on us to serve all of your appraisal needs. Whether you need an appraisal for date of death, bankruptcy, removing private mortgage insurance, listing price for your home or your client's home, loan modification, REO, foreclosure or just simply want to know what your house or property is worth, we can provide you with an accurate and prompt service.
Our professional appraisal reports are written for attorneys, accountants, financial advisors, banks, bail bonds and their clients. They are not just conventional appraisal reports using the standard mortgage forms that you have to dig through to find the information you are looking for.
When an appraisal is a necessity for any of these reasons you need solid defensible documentation that provides an accurate determination of property value! You can rely on 1 Day Home Appraisal to get the job done right the first time.
Appraisal Types We Specialize In
---
No physical inspection is performed. Desktop appraisals are limited in scope and are performed using only online information.

The defining characteristic of a drive-by appraisal is that the appraiser doesn't go inside the house.
Full appraisals are referred to as the most accurate appraisals. Full appraisal requires the appraiser to physically inspect the property.
We Specialize In Real Estate Appraisals For:
---
Appraisal fees based on location and square footage
Thanks for all your help…" Thanks for all your help with my probate proceedings. I definitely recommend 1 Day Home Appraisal. There services are SUPER FAST with QUALITY.

1 Day Home Appraisal saved my home when I filled for bankruptcy. Their services were fast, prompt and reliable. When I called them they answered the phone in a professional manner, scheduled the appointment right away and had the appraisal report sent to me via email the next day. Great Job!!

Amazing service. Outstanding quality and affordable pricing. Definitely 5 star company.

I hired 1 Day Home Appraisal to appraisers my properties for estate planning reasons. They were very professional, courteous and respectful. Answered all questions I had. They appraised all of my properties and delivered the reports directly to me by email very quickly. 1 Day Home Appraisal is hands down the best company to hire for real estate appraisal needs and I'm sure will perform the same with their home inspection service.

Did exactly what they said! Awesome work guys keep it up!

1 Day Home Inspection made my home buying experience much less stressful and made me feel confident about the home I was going to purchase. The inspection took about 2 hours and after completion of the inspection they walked me threw all Items that needed attention. I also received a home inspection detailed self explanatory report 1 day after the inspection. Their services are great and affordable.

I was very happy with the quality of service and report that I received from 1 Day Home Inspection. 1 Day Home Inspection also has a sister company 1 Day Home Appraisal. They know real estate in and out from the inspection aspect to valuation. They gave me a thorough inspection report with valuable information for only $300. I most definitely recommend 1 Day Home Inspection.
State Licensed & Certified, Local Appraisers
Want to Talk?
Please Call Us: 323-707-8188
---
We appraise single-family residence, apartments, condos, townhomes and more...